Brazil | Burundi | Colombia | El Salvador | Ethiopia | Flores | Guatemala | Honduras | Indonesia | Java | Kenya | Nicaragua | Rwanda | Sulawesi | Sumatra | Tanzania |
---
NOTE: All of our premium Arabica coffees are roasted to City+ to Full City roasts, showing minimal-to-no surface oils….we want all of the flavor to stay in the beans until the coffee is ground! Despite the additional descriptors, the first flavor and aroma you'll think of is "COFFEE".
Badbeard's espresso coffee blends are developed for coffee houses to provide the perfect balance of flavor, mouthfeel & intensity in an espresso shot. We feel that the traditional "Northern Italian" style, which relies heavily on a base of the finest-quality Brazilian natural-process beans, offers the most consistent and interesting cup quality. There will always be room for great Single Origin espressos in our roster, and in the product descriptors such possibilities will be noted.

Blending disparate coffees is one of the great pleasures and challenges in the roasting trade, and we strive to create full-bodied, savory experiences in the cup.
Barista extraordinaire Tyler Hauptman of Portland's Sweet Masterpiece Chocolates demonstrates how to prepare a proper latte using Badbeard's
Symphony!
blend coffee.
More offerings...
Kinda bursting at the seams with tasty offerings, now including monster Kenya Kiamabara AA, fresh, excellent and value-packed Colombia Narino Supremo and Sumatra Lintong Triple Picked for lovers of fine Far East coffees.
more
Drink up! Great new coffees are in.
Roastery bursting with goodies as promised. The Burundi Dukorere Ikawa and Rwanda Dukunde Kawa are quite special, as are the new Yirgacheffes, natural process bursting with fruity goodness and the washed Grade 2 among the best we've ever tasted. Organic Java Taman Dadar is back for a long run ...more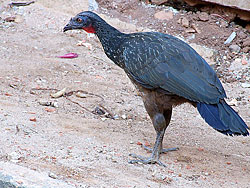 If your coffee tastes like s--t, don't blame the Jacu bird! This infamous Amazon bean-machine beak-selects each coffee berry at the peak of ripeness and leaves just the beans, somewhat clean and green, behind...so to speak.
Love us or hate us, everyone's entitled to their opinion.
Drop us a line
and let us know what's brewing in your cup!