Bali | Brazil | Colombia | Costa Rica | El Salvador | Ethiopia | Guatemala | Honduras | Indonesia | Java | Kenya | Mexico | Rwanda | Sulawesi | Sumatra | Uganda |
---
NOTE: All of our premium Arabica coffees are roasted to City+ to Full City roasts, showing minimal-to-no surface oils….we want all of the flavor to stay in the beans until the coffee is ground! Despite the additional descriptors, the first flavor and aroma you'll think of is "COFFEE".
Badbeard's espresso coffee blends are developed for coffee houses to provide the perfect balance of flavor, mouthfeel & intensity in an espresso shot. We feel that the traditional "Northern Italian" style, which relies heavily on a base of the finest-quality Brazilian natural-process beans, offers the most consistent and interesting cup quality. There will always be room for great Single Origin espressos in our roster, and in the product descriptors such possibilities will be noted.

Blending disparate coffees is one of the great pleasures and challenges in the roasting trade, and we strive to create full-bodied, savory experiences in the cup.
Barista extraordinaire Tyler Hauptman of Portland's Sweet Masterpiece Chocolates demonstrates how to prepare a proper latte using Badbeard's
Symphony!
blend coffee.
Accolades for Badbeard!
Fab News! Badbeard's notched the PEOPLE'S CHOICE award at the 2017 Cascadia Roasters Cup event this past Saturday (held at Buckman Coffee Factory) in Portland, which was open to all. Importer Genuine Origins gave 20 pounds of the same "mystery coffee" participants ...more
Organic Sumatra arriving 11-3-17, yum
Timely arrival of this excellent Indonesian as our stash of Java and Bali is exhausted. The Irham Junus family in Takengon, Aceh Province is a seed-to-cup producer which sells all of its coffee to our importer partners Royal in Emeryville, CA. You can watch a short video of this enterprise ...more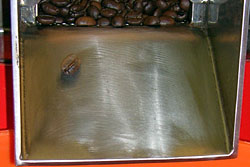 We are such perfectionists we roast one bean at a time for the ultimate coffee experience! (OK, not really)
Love us or hate us, everyone's entitled to their opinion.
Drop us a line
and let us know what's brewing in your cup!