Bali | Brazil | Burundi | Colombia | El Salvador | Ethiopia | Flores | Guatemala | Honduras | Indonesia | Java | Kenya | Mexico | Papua New Guinea | Rwanda | Sulawesi | Sumatra | Uganda | Yemen |
---
NOTE: All of our premium Arabica coffees are roasted to City+ to Full City roasts, showing minimal-to-no surface oils….we want all of the flavor to stay in the beans until the coffee is ground! Despite the additional descriptors, the first flavor and aroma you'll think of is "COFFEE".
Badbeard's espresso coffee blends are developed for coffee houses to provide the perfect balance of flavor, mouthfeel & intensity in an espresso shot. We feel that the traditional "Northern Italian" style, which relies heavily on a base of the finest-quality Brazilian natural-process beans, offers the most consistent and interesting cup quality. There will always be room for great Single Origin espressos in our roster, and in the product descriptors such possibilities will be noted.

Blending disparate coffees is one of the great pleasures and challenges in the roasting trade, and we strive to create full-bodied, savory experiences in the cup.
Barista extraordinaire Tyler Hauptman of Portland's Sweet Masterpiece Chocolates demonstrates how to prepare a proper latte using Badbeard's
Symphony!
blend coffee.
New microlot Colombia Finca La Paz, women producers
Colombia is becoming my favorite origin country for exceptional smallholder coffee lots. We just took in Finca La Paz, a microlot production of a de facto women-only farm. Superb. Nice body and aromatics in the light-medium roast. Bravissima ...more
2016, sorry to see you go?! Book soon!
Another banner year at Badbeard's, loads of great new customers and coffees. Last day to order coffees for 2016 will be Monday, Dec. 26, before 1 PM if you can! After that we'll resume 1/1/2017...starting the new year right! Enjoy your families and ...more
December.. new offerings from Brazil, Ethiopia and Flores
Some excellent coffees rolled in today, Dec. 7; a 100% pulped natural Yellow Bourbon from esteemed Brazil farm Fazenda Rainha, winner of many prizes in both Brazil Specialty Coffee Association and Cup of Excellence competitions, lovely s.o. espresso; rockin' Ethiopia Guji Shakiso and Organic ...more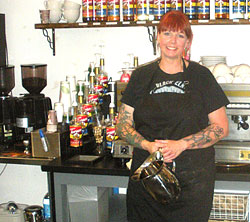 She's a [painted]lady! Jill Younce, owner of Painted Lady Coffeehouse in Milwaukie, OR, lives up to the name, as well as serving the best espresso in town!
Love us or hate us, everyone's entitled to their opinion.
Drop us a line
and let us know what's brewing in your cup!