Brazil | Burundi | Colombia | Costa Rica | El Salvador | Ethiopia | Flores | Guatemala | Honduras | Indonesia | Java | Kenya | Nicaragua | Panama | Papua New Guinea | Rwanda | Sumatra | Tanzania |
---
NOTE: All of our premium Arabica coffees are roasted to City+ to Full City roasts, showing minimal-to-no surface oils….we want all of the flavor to stay in the beans until the coffee is ground! Despite the additional descriptors, the first flavor and aroma you'll think of is "COFFEE".
Barista extraordinaire Tyler Hauptman of Portland's Sweet Masterpiece Chocolates demonstrates how to prepare a proper latte using Badbeard's
Symphony!
blend coffee.
November arrivals: Sumatra Tabu Jamu and Yirgacheffe Kochere coming
With supplies of our Sumatra Bodhi Peaberry and Honey Process Mandheling dwindling we thought it provident to bring back the Sidikalang (Sumatra) Tabu Jamu, which we enjoy drinking as much as saying over and over. Arrival 11/12/13 with a fresh stash of the exceptional Ethiopia Yirgacheffe ...more
New arrivals 9-17-13....very special coffees! Yum!
Three stellar coffees from Panama (Los Lajones Estate Honey Process), El Salvador (Finca La Arada Pacas Honey Process) and Sumatra (Bodhi Peaberry). All exceptional and very limited quantities. Not to be missed...thanks to new contact-direct ...more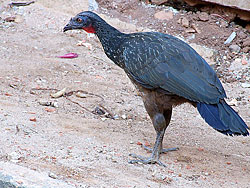 If your coffee tastes like s--t, don't blame the Jacu bird! This infamous Amazon bean-machine beak-selects each coffee berry at the peak of ripeness and leaves just the beans, somewhat clean and green, behind...so to speak.
Love us or hate us, everyone's entitled to their opinion.
Drop us a line
and let us know what's brewing in your cup!