Bali | Brazil | Colombia | Costa Rica | Costa Rica | El Salvador | Ethiopia | Guatemala | Honduras | Indonesia | Java | Kenya | Mexico | Papua New Guinea | Papua New Guinea | Peru | Rwanda | Sulawesi | Sumatra | Tanzania | Uganda |
---
NOTE: All of our premium Arabica coffees are roasted to City+ to Full City roasts, showing minimal-to-no surface oils….we want all of the flavor to stay in the beans until the coffee is ground! Despite the additional descriptors, the first flavor and aroma you'll think of is "COFFEE".
Badbeard's Coffee selects the finest sustainably-grown green coffee beans from around the world, and roasts them to perfection. The driving force of our selection is Cup Quality, which has led us primarily to organically-grown selections. Where possible we support growers flying under the Rainforest Alliance and Fair Trade banners. We still believe that the "Fair Trade benchmark" prices are too low and pay premiums in excess of those targets. We depend on the farmers to produce the best coffee they can and work with importers whose financial transparency insures that the growers realize the most direct benefit.
Barista extraordinaire Tyler Hauptman of Portland's Sweet Masterpiece Chocolates demonstrates how to prepare a proper latte using Badbeard's
Symphony!
blend coffee.
Kenya Kenya Kenya Nicaragua natural
Two gone (Grand Reserve and Blue Mountain) and one new one in, Konyu AA. I'm a fan of the Konyu and only got a miniscule amount of it, too little to list as an inventory item since it usually flies out. However, you dedicated fans, while I have it please order Special du Jour Deluxe and specify ...more
Guatemala comings and goings
Said good-bye tearily to the last beans from La Morena, an exceptional women-produced coffee, as we welcomed in the exceptional Finca La Maravilla microlot from highland Huehuetenango. La Morena will be back soon!
CAFE IS FINALLY HAPPENING!
The wait for the cafe is finally over...Abundancia Coffee Boutique, home of Badbeard's roasting facility, has soft-opened, here at 5829 SE Powell Blvd. Portland 97206. My coffee partner Faisal, whose exceptional family Kenya coffees we have carried for a couple years now, is as hopped up as I ...more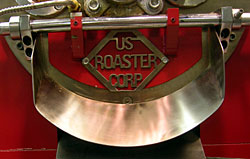 Her name is Rossalina, but her pedigree is all-american.
Love us or hate us, everyone's entitled to their opinion.
Drop us a line
and let us know what's brewing in your cup!