Brazil | Burundi | Colombia | El Salvador | Ethiopia | Flores | Guatemala | Honduras | Indonesia | Java | Kenya | Nicaragua | Rwanda | Sulawesi | Sumatra |
---
NOTE: All of our premium Arabica coffees are roasted to City+ to Full City roasts, showing minimal-to-no surface oils….we want all of the flavor to stay in the beans until the coffee is ground! Despite the additional descriptors, the first flavor and aroma you'll think of is "COFFEE".
Badbeard's Coffee selects the finest sustainably-grown green coffee beans from around the world, and roasts them to perfection. The driving force of our selection is Cup Quality, which has led us primarily to organically-grown selections. Where possible we support growers flying under the Rainforest Alliance and Fair Trade banners. We still believe that the "Fair Trade benchmark" prices are too low and pay premiums in excess of those targets. We depend on the farmers to produce the best coffee they can and work with importers whose financial transparency insures that the growers realize the most direct benefit.
Barista extraordinaire Tyler Hauptman of Portland's Sweet Masterpiece Chocolates demonstrates how to prepare a proper latte using Badbeard's
Symphony!
blend coffee.
More freshies, Colombia Pacamara and Brazil "Sugar"
Champing at the bit awaiting the new Colombia Cafe Granja La Esperanza Pacamara Honey process...a superb exotic. From my new fave rock-star producer in all of South America...devilishly rich coffee. Also new/Late Harvest Brazil OurCoffees "Sugar", an extraordinary cup for the $$$, reflective of ...more
More offerings...
Kinda bursting at the seams with tasty offerings, now including monster Kenya Kiamabara AA, fresh, excellent and value-packed Colombia Narino Supremo and Sumatra Lintong Triple Picked for lovers of fine Far East coffees.
more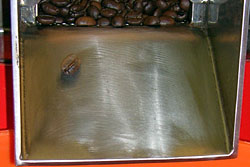 We are such perfectionists we roast one bean at a time for the ultimate coffee experience! (OK, not really)
Love us or hate us, everyone's entitled to their opinion.
Drop us a line
and let us know what's brewing in your cup!