Bali | Brazil | Burundi | Colombia | El Salvador | Ethiopia | Flores | Guatemala | Honduras | Indonesia | Java | Kenya | Mexico | Papua New Guinea | Rwanda | Sulawesi | Sumatra | Uganda | Yemen |
---
NOTE: All of our premium Arabica coffees are roasted to City+ to Full City roasts, showing minimal-to-no surface oils….we want all of the flavor to stay in the beans until the coffee is ground! Despite the additional descriptors, the first flavor and aroma you'll think of is "COFFEE".
Barista extraordinaire Tyler Hauptman of Portland's Sweet Masterpiece Chocolates demonstrates how to prepare a proper latte using Badbeard's
Symphony!
blend coffee.
Many tidings and new coffees
Busy busy times for me as we prepare to more the roastery in a few days...trying to make the transition to a new smaller and more intimate space with as little down-time as possible. Target date for install will be Friday April 28, and the new plant address 5829 SE Powell Blvd., Portland 97206. ...more
Kenya Peaberry is in!
It seemed like a herculean effort for our LTL shipper to deliver the stash of fabuloso Kenya Peaberry from our esteemed partner-in-bean-crime Matthew Mugo, but I took it in today, Feb. 23. The designation Riamute (for the farm) only tells half the story...it also bears the tag Kathunguri ("rough ...more
Kenya ins and outs
Sadly our stellar Kenya AA Kiambu is officially out-of-stock. We loved it and gleefully await producer Matthew Mugo's current crop offering, literally making its way to Portland on the ironically slow-as-molasses service Roadrunner. Beep-Beep, next week TBA we'll crank out Mugo's stellar ...more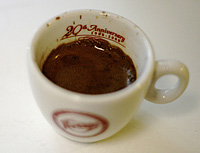 triple ristretto shot of Deep Cello Espresso blend
Love us or hate us, everyone's entitled to their opinion.
Drop us a line
and let us know what's brewing in your cup!