Brazil | Burundi | Colombia | El Salvador | Ethiopia | Flores | Honduras | Indonesia | Java | Kenya | Nicaragua | Papua New Guinea | Peru | Rwanda | Sulawesi | Sumatra | Tanzania |
---
NOTE: All of our premium Arabica coffees are roasted to City+ to Full City roasts, showing minimal-to-no surface oils….we want all of the flavor to stay in the beans until the coffee is ground! Despite the additional descriptors, the first flavor and aroma you'll think of is "COFFEE".
Green coffee

Sorry! No Products Found



Barista extraordinaire Tyler Hauptman of Portland's Sweet Masterpiece Chocolates demonstrates how to prepare a proper latte using Badbeard's
Symphony!
blend coffee.
Beans Flying Every Which Way...arrivals pending
New coffees will be arriving in abundance next week...assuming those containers can be found in the vast tracts of real estate in the West Coast ports (THANK YOU SEQUESTER!) Said goodbye to the last of Colombia Excelso today and will be looking to a tasty replacement from the Huila area. Stay ...more
SPRING BREAK...PLEASE NOTE for ordering/shipping week of 4/7
Badbeard will be trotting off to NYC from Thursday 4/10 thru 4/16 so orders place by noon Wednesday 4/9 will be roasted and shipped that day. We'll resume the party on Wednesday 4/16. Meanwhile excited to be attending my first Camden Yards Orioles game...Baltimore watch out...Detroit Tigers fan ...more
Badbeard Bandit Nabbed!
He robbed eight banks in Northern and Central California from November to February this year, but the "Badbeard Bandit" was finally nabbed by the FBI this March 27. The bandit, who wore a costume with a cheap imitation beard to hide his identity from security cameras, was identified as Gerardo ...more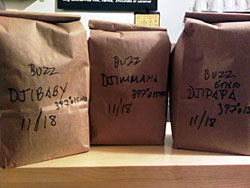 How to catch a Badbeard buzz at Buzz Killer Espresso in Chicago.
Love us or hate us, everyone's entitled to their opinion.
Drop us a line
and let us know what's brewing in your cup!