Related Links

Barista extraordinaire Tyler Hauptman of Portland's Sweet Masterpiece Chocolates demonstrates how to prepare a proper latte using Badbeard's
Symphony!
blend coffee.
Flurries of coffee (NOT snow) arriving December 2013
Just in time for the holiday rush exciting new coffees from Brazil (Bobolink), Colombia (Nariño Peaberry), two organic/FT Ethiopians; Sidama natural process(Fura Co-Op) and Yirgacheffe Biloya, Costa Rica Tarrazu Peaberry. C'mon get you ...more
November arrivals: Sumatra Tabu Jamu and Yirgacheffe Kochere coming
With supplies of our Sumatra Bodhi Peaberry and Honey Process Mandheling dwindling we thought it provident to bring back the Sidikalang (Sumatra) Tabu Jamu, which we enjoy drinking as much as saying over and over. Arrival 11/12/13 with a fresh stash of the exceptional Ethiopia Yirgacheffe ...more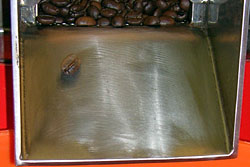 We are such perfectionists we roast one bean at a time for the ultimate coffee experience! (OK, not really)
Love us or hate us, everyone's entitled to their opinion.
Drop us a line
and let us know what's brewing in your cup!