Related Links

Barista extraordinaire Tyler Hauptman of Portland's Sweet Masterpiece Chocolates demonstrates how to prepare a proper latte using Badbeard's
Symphony!
blend coffee.
More freshies, Colombia Pacamara and Brazil "Sugar"
Champing at the bit awaiting the new Colombia Cafe Granja La Esperanza Pacamara Honey process...a superb exotic. From my new fave rock-star producer in all of South America...devilishly rich coffee. Also new/Late Harvest Brazil OurCoffees "Sugar", an extraordinary cup for the $$$, reflective of ...more
More offerings...
Kinda bursting at the seams with tasty offerings, now including monster Kenya Kiamabara AA, fresh, excellent and value-packed Colombia Narino Supremo and Sumatra Lintong Triple Picked for lovers of fine Far East coffees.
more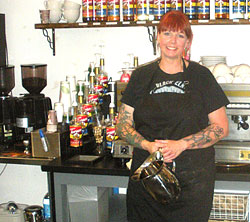 She's a [painted]lady! Jill Younce, owner of Painted Lady Coffeehouse in Milwaukie, OR, lives up to the name, as well as serving the best espresso in town!
Love us or hate us, everyone's entitled to their opinion.
Drop us a line
and let us know what's brewing in your cup!