Related Links

Barista extraordinaire Tyler Hauptman of Portland's Sweet Masterpiece Chocolates demonstrates how to prepare a proper latte using Badbeard's
Symphony!
blend coffee.
Honduras Santa Elena Catracha Ernesto Vasquez update
We are out of stock of the Ernesto Vasquez's fabled coffee, our Central american fave, source of all the goodness in the Badbeard's Milk Stout making the rounds on the Portland tap scene. Word today from Royal Coffee that arrival for the fantastic (cupped a pre-ship sample...super chocolatey!) ...more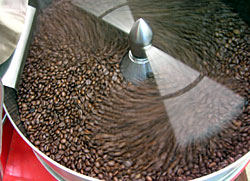 Take our beans for a spin...you won't be disappointed.
Love us or hate us, everyone's entitled to their opinion.
Drop us a line
and let us know what's brewing in your cup!