Related Links

Barista extraordinaire Tyler Hauptman of Portland's Sweet Masterpiece Chocolates demonstrates how to prepare a proper latte using Badbeard's
Symphony!
blend coffee.
Beautiful Organic Bolivia Peaberry arriving 6-25-14
Coffees from South America still the freshest and most-recent in the Americas, and so happy to be bringing in this luscious washed Bolivia Peaberry from the outstanding CENAPROC cooperative in Caranavi. CENAPROC has produced many award-winning coffees over the years, including the Best of ...more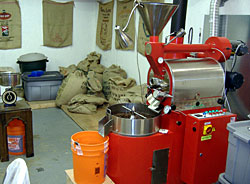 Rossalina is our small-batch roaster capable of roasting samples down to a half-pound with exquisite control. The hallmark of great coffee is consistent roast temperatures and even air flow, and Rossalina delivers on both counts.
Love us or hate us, everyone's entitled to their opinion.
Drop us a line
and let us know what's brewing in your cup!