Related Links

Barista extraordinaire Tyler Hauptman of Portland's Sweet Masterpiece Chocolates demonstrates how to prepare a proper latte using Badbeard's
Symphony!
blend coffee.
Coming week of 6/29 new arrivals
The coffers continue to swell with great coffee. Samples of favored Central Americans have been fairly middling-to-disappointing but we landed a prize, a microlot from Honduras, Santa Elena Catracha and farmer Adan Hernandez Amaya (several members of the family having eponymous farms under the ...more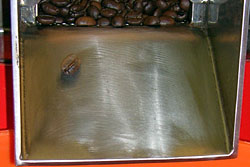 We are such perfectionists we roast one bean at a time for the ultimate coffee experience! (OK, not really)
Love us or hate us, everyone's entitled to their opinion.
Drop us a line
and let us know what's brewing in your cup!