Barista extraordinaire Tyler Hauptman of Portland's Sweet Masterpiece Chocolates demonstrates how to prepare a proper latte using Badbeard's
Symphony!
blend coffee.
Kenya oh Kenya
Inventory is now voided of all Kenyas..for a short bit. Stuffs ordered are still making their way to US shores...but goodness comes to those who wait...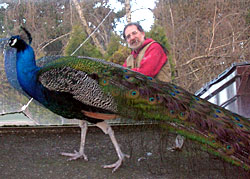 One of our rarer blends incorporating Indian Peafeather and Sustainable Harvest Badbeard
Love us or hate us, everyone's entitled to their opinion.
Drop us a line
and let us know what's brewing in your cup!