Bali | Brazil | Burundi | Colombia | Costa Rica | El Salvador | Ethiopia | Flores | Guatemala | Honduras | Indonesia | Java | Kenya | Mexico | Rwanda | Sulawesi | Sumatra | Uganda |
---
NOTE: All of our premium Arabica coffees are roasted to City+ to Full City roasts, showing minimal-to-no surface oils….we want all of the flavor to stay in the beans until the coffee is ground! Despite the additional descriptors, the first flavor and aroma you'll think of is "COFFEE".
Barista extraordinaire Tyler Hauptman of Portland's Sweet Masterpiece Chocolates demonstrates how to prepare a proper latte using Badbeard's
Symphony!
blend coffee.
Nothing lasts forever...
Well of course, but definitely rockstar Ethiopia natural process Hafursa...way too popular! We'll surely bring this coffee back next year. The Gelana Abaya natural process Yirgacheffe is also a fantastic coffee, quite similar to the Hafursa, so we hope diehards will give it a try. Also ...more
Ethiopia stellar Gelana Abaya washed and natural process
Same coffee, different process, abbondanza! The Semalo/Pride Mill is a groundbreaking project just a couple of years old now, and producing amazing coffee in Yirgacheffe. A unique chance to taste the differences side-by-side in your cup...the natural of course the fruitier and more floral of the ...more
Old friends returning
We welcomed back two past-year stars this week...Honduras Ernesto Vasquez's stellar 2017 washed Santa Elena Catracha Project offering and the Colombia Finca Los Cedros Pink Bourbon. Two of the most interesting coffees of the year!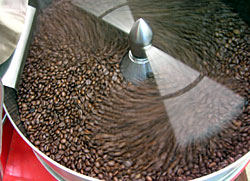 Take our beans for a spin...you won't be disappointed.
Love us or hate us, everyone's entitled to their opinion.
Drop us a line
and let us know what's brewing in your cup!