Bali | Brazil | Burundi | Colombia | Costa Rica | East Timor/Timor Leste | El Salvador | Ethiopia | Flores | Guatemala | Honduras | Java | Kenya | Mexico | Papua New Guinea | Peru | Rwanda | Sulawesi | Sumatra | Uganda |
---
NOTE: All of our premium Arabica coffees are roasted to City+ to Full City roasts, showing minimal-to-no surface oils….we want all of the flavor to stay in the beans until the coffee is ground! Despite the additional descriptors, the first flavor and aroma you'll think of is "COFFEE".
New Lower Shipping Prices!
FREE US SHIPPING On Orders Over $50!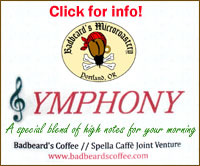 Catch the Buzz with BadBeard's Super-Premium Coffee! We're coffee fanatics, plain and simple; we'll only settle for the best coffee beans we can buy (organic and Fair Trade certified whenever possible) and then happily roast and share the bounty. Frankly, we're kind of sick over all of the hype which riddles the specialty coffee industry. YES, it's true that great beans potentially receive their maximum flavor expression when delivered by professionals using pricey, sophisticated equipment. YES, there is still an alarming amount of "so-so" product out there--so how do you get the GREAT stuff? On these pages you can buy the finest roasted beans which are prized by coffee pros and demanding coffee lovers alike, roasted to the exact point to deliver maximum flavor and aroma.
MAKE GREAT COFFEE AT HOME—YOU CAN DO IT!
What distinguishes BADBEARD'S offerings is the passion and dedication to the roasting process, done by a demanding professional who keeps it real and small-scale. Great green beans go into our 5-kg per batch max, all-American-made roaster and emerge ready to tell you their story of origin. Always COFFEE first and last, and always spectacular. Period. Savor and smell the difference an uncompromising, artisan roaster can make...then YOU can provide the hype!
Barista extraordinaire Tyler Hauptman of Portland's Sweet Masterpiece Chocolates demonstrates how to prepare a proper latte using Badbeard's
Symphony!
blend coffee.
Ins and outs, Ethiopia edition
Yirgacheffe Kochere is officially out of stock after a torrid run...but fear not, crushing it with a new Yirg from Dumerso, a stone's throw from Chelelektu (our natural process offering). Also shortly we'll have in a wonderful Papua New Guinea, check back ...more
Comings and Goings
Papua New Guinea stops about to hit us again next week, but we're void for the time being. Added to the Special du Jour Boutique roster is a sultry, certified organic natural process from Uganda Sipi Falls region (Kapkwai) and Brazil Jacarezinho natural process cold-soaked (24 hrs.)...both very ...more
Ethiopia new crop Sidamo Arfasa just in stock...
Lovely coffee, as always Sidamo region shines bright in the Ethiopia landscape. Produced in low-density "coffee gardens" by smallholder farmers, there are nice fruit and aromatic notes in this fully washed 2019 crop. A keeper!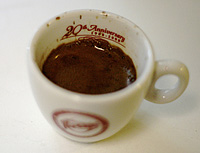 triple ristretto shot of Deep Cello Espresso blend
Love us or hate us, everyone's entitled to their opinion.
Drop us a line
and let us know what's brewing in your cup!