Bali | Brazil | Burundi | Colombia | Costa Rica | East Timor/Timor Leste | El Salvador | Ethiopia | Flores | Guatemala | Honduras | Java | Kenya | Mexico | Papua New Guinea | Peru | Rwanda | Sulawesi | Sumatra | Uganda |
---
NOTE: All of our premium Arabica coffees are roasted to City+ to Full City roasts, showing minimal-to-no surface oils….we want all of the flavor to stay in the beans until the coffee is ground! Despite the additional descriptors, the first flavor and aroma you'll think of is "COFFEE".
Badbeard's select decaffeinated coffees are buzz-free versions of excellent coffees, period! Almost without exception our decafs are produced by the proprietary Mountain Water Process(MWP), which comes from the Descamex plant in Veracruz, Mexico. Occasionally we will use the designation RSWP or Royal Select. Royal Coffee Importers out of Emeryville, California, was the progenitor of the Descamex plant many years ago and the Royal Select tag applies to the best of the best. We have had some good coffees produced using the Supercritical CO2 method in the past as well as Swiss Water Process but they are spotty in quality and customers and many roasters look to the MWP decafs almost exclusively these days. The results are uncompromisingly tasty…and will occasionally fool even your java-savvy friends that you're drinking caffeinated coffee! Why so many decaf selections at Badbeard's? Simply put, I have long felt that decaf drinkers are arguably the most hard-core coffee lovers, who for whatever reason can't take caffeine...all reasons valid....so it is with you in mind that we try to get the most flavorful coffees available. This year has seen a bumper crop....enjoy! Lower-caf offerings are 60/40% region-specific blends of MWP decaf and caffeinated cousins. There will be no comromise on taste, just the amount of caffeine!
Barista extraordinaire Tyler Hauptman of Portland's Sweet Masterpiece Chocolates demonstrates how to prepare a proper latte using Badbeard's
Symphony!
blend coffee.
Ins and outs, Ethiopia edition
Yirgacheffe Kochere is officially out of stock after a torrid run...but fear not, crushing it with a new Yirg from Dumerso, a stone's throw from Chelelektu (our natural process offering). Also shortly we'll have in a wonderful Papua New Guinea, check back ...more
Comings and Goings
Papua New Guinea stops about to hit us again next week, but we're void for the time being. Added to the Special du Jour Boutique roster is a sultry, certified organic natural process from Uganda Sipi Falls region (Kapkwai) and Brazil Jacarezinho natural process cold-soaked (24 hrs.)...both very ...more
Ethiopia new crop Sidamo Arfasa just in stock...
Lovely coffee, as always Sidamo region shines bright in the Ethiopia landscape. Produced in low-density "coffee gardens" by smallholder farmers, there are nice fruit and aromatic notes in this fully washed 2019 crop. A keeper!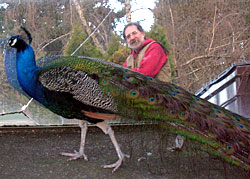 One of our rarer blends incorporating Indian Peafeather and Sustainable Harvest Badbeard
Love us or hate us, everyone's entitled to their opinion.
Drop us a line
and let us know what's brewing in your cup!