Related Links

Barista extraordinaire Tyler Hauptman of Portland's Sweet Masterpiece Chocolates demonstrates how to prepare a proper latte using Badbeard's
Symphony!
blend coffee.
New decafs in...no jitters!
Adding coffees in peak season for many origins is half the fun of my day. Today bringing two new lovely decafs....Rwanda Nyamesheke Swiss Water Process and Colombia natural decaf (sugarcane "extraction" of the caffeine) from the Cudinamarca region. ...more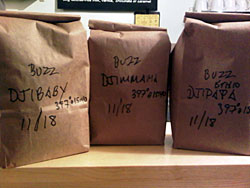 How to catch a Badbeard buzz at Buzz Killer Espresso in Chicago.
Love us or hate us, everyone's entitled to their opinion.
Drop us a line
and let us know what's brewing in your cup!