Bali | Brazil | Burundi | Colombia | Costa Rica | El Salvador | Ethiopia | Flores | Guatemala | Honduras | Java | Kenya | Mexico | Nicaragua | Papua New Guinea | Rwanda | Sulawesi | Sumatra | Tanzania | Timor | Uganda | Yemen |
---
NOTE: All of our premium Arabica coffees are roasted to City+ to Full City roasts, showing minimal-to-no surface oils….we want all of the flavor to stay in the beans until the coffee is ground! Despite the additional descriptors, the first flavor and aroma you'll think of is "COFFEE".
Badbeard's Coffee selects the finest sustainably-grown green coffee beans from around the world, and roasts them to perfection. The driving force of our selection is Cup Quality, which has led us primarily to organically-grown selections. Where possible we support growers flying under the Rainforest Alliance and Fair Trade banners. We still believe that the "Fair Trade benchmark" prices are too low and pay premiums in excess of those targets. We depend on the farmers to produce the best coffee they can and work with importers whose financial transparency insures that the growers realize the most direct benefit.
New arrivals streaming in...
As the PLAGUE wears us all down at times, roasting is a salve for my spirit, and new crop arrivals are fun to share. Ethiopia, our favorite of all origins, is still behind the production and shipping curves by a couple months in general. We just got one of our faves of recent years, a washed ...more
Newest tasty inventory additions: Colombia, Rwanda and Ethiopia
2020 harvest coffees have begun arriving, and the newest additions are Colombia Finca Buenaventura (Anselma, Caldas Dept.)...the producer is a dynamic young woman, Luz Angela Martinez Restrepo, who continues a multi-generational family farm producing first-class coffee. Sweet and ...more
New decafs in...no jitters!
Adding coffees in peak season for many origins is half the fun of my day. Today bringing two new lovely decafs....Rwanda Nyamesheke Swiss Water Process and Colombia natural decaf (sugarcane "extraction" of the caffeine) from the Cudinamarca region. ...more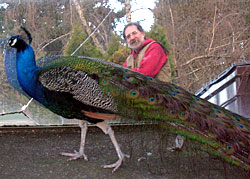 One of our rarer blends incorporating Indian Peafeather and Sustainable Harvest Badbeard
Love us or hate us, everyone's entitled to their opinion.
Drop us a line
and let us know what's brewing in your cup!