Bali | Brazil | Burundi | Colombia | Costa Rica | East Timor/Timor Leste | El Salvador | Ethiopia | Flores | Guatemala | Honduras | Java | Kenya | Mexico | Papua New Guinea | Peru | Rwanda | Sulawesi | Sumatra | Uganda |
---
NOTE: All of our premium Arabica coffees are roasted to City+ to Full City roasts, showing minimal-to-no surface oils….we want all of the flavor to stay in the beans until the coffee is ground! Despite the additional descriptors, the first flavor and aroma you'll think of is "COFFEE".
Badbeard's Coffee selects the finest sustainably-grown green coffee beans from around the world, and roasts them to perfection. The driving force of our selection is Cup Quality, which has led us primarily to organically-grown selections. Where possible we support growers flying under the Rainforest Alliance and Fair Trade banners. We still believe that the "Fair Trade benchmark" prices are too low and pay premiums in excess of those targets. We depend on the farmers to produce the best coffee they can and work with importers whose financial transparency insures that the growers realize the most direct benefit.
Barista extraordinaire Tyler Hauptman of Portland's Sweet Masterpiece Chocolates demonstrates how to prepare a proper latte using Badbeard's
Symphony!
blend coffee.
Boutique du Jour adds outstanding Colombia Microlot
Special coffee from veteran and award-winning producer Saloman Artunduaga from his 10-hectare farm, Finca Futura, in Bruselas, Huila Department. Fruity-intense lavors you normally find in prized and pricey Kenya AA and washed Ethiopia! A whole 66 lbs. available! Boutique du Jour tab filled with ...more
La Boda Espresso debut...Brazil + microlot El Salvador medley oh my
We are calling this a seasonal espresso but it is going to be a keeper for sure. The pairing of our pulped natural Brazil Mantiquiera de Minas and an awesome trio of coffees from producer Anny Ruth Pimentel and her Beneficio Loma La Gloria in El Balsamo Quetzaltepec is a stunner. Has to be ...more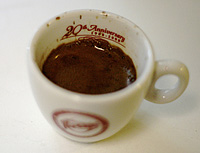 triple ristretto shot of Deep Cello Espresso blend
Love us or hate us, everyone's entitled to their opinion.
Drop us a line
and let us know what's brewing in your cup!