Bali | Brazil | Burundi | Colombia | Costa Rica | El Salvador | Ethiopia | Flores | Guatemala | Honduras | Java | Kenya | Mexico | Papua New Guinea | Rwanda | Sulawesi | Sumatra | Uganda |
---
NOTE: All of our premium Arabica coffees are roasted to City+ to Full City roasts, showing minimal-to-no surface oils….we want all of the flavor to stay in the beans until the coffee is ground! Despite the additional descriptors, the first flavor and aroma you'll think of is "COFFEE".
Badbeard's espresso coffee blends are developed for coffee houses to provide the perfect balance of flavor, mouthfeel & intensity in an espresso shot. We feel that the traditional "Northern Italian" style, which relies heavily on a base of the finest-quality Brazilian natural-process beans, offers the most consistent and interesting cup quality. There will always be room for great Single Origin espressos in our roster, and in the product descriptors such possibilities will be noted.

Blending disparate coffees is one of the great pleasures and challenges in the roasting trade, and we strive to create full-bodied, savory experiences in the cup.
Barista extraordinaire Tyler Hauptman of Portland's Sweet Masterpiece Chocolates demonstrates how to prepare a proper latte using Badbeard's
Symphony!
blend coffee.
Papua New Guinea Par Avion
Yes, planes are involved in the accessing of this delicious PNG coffee....the remote Simbai area is rather inaccessible so farmers must schlep their coffee to an airstrip. Worth every bean!
Holiday Special Ethiopia limited edition
Black Friday? Not here, sorry, but the elves at Badbeard's put together a limited availability "tasting pair" of 2 special organic Ethiopia Sidama region coffees in both natural and washed process from Shantawene Village. Two 12-oz. bags (1.5 lbs. net) of spectacular stuff for the price of one. ...more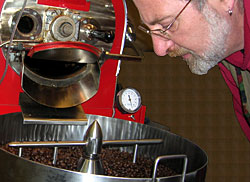 Badbeard checks for Waldos.
Love us or hate us, everyone's entitled to their opinion.
Drop us a line
and let us know what's brewing in your cup!