Bali | Brazil | Burundi | Colombia | Costa Rica | East Timor/Timor Leste | El Salvador | Ethiopia | Flores | Guatemala | Honduras | Java | Kenya | Mexico | Papua New Guinea | Peru | Rwanda | Sulawesi | Sumatra | Uganda | Yemen |
---
NOTE: All of our premium Arabica coffees are roasted to City+ to Full City roasts, showing minimal-to-no surface oils….we want all of the flavor to stay in the beans until the coffee is ground! Despite the additional descriptors, the first flavor and aroma you'll think of is "COFFEE".
Special seasonal offerings
Barista extraordinaire Tyler Hauptman of Portland's Sweet Masterpiece Chocolates demonstrates how to prepare a proper latte using Badbeard's
Symphony!
blend coffee.
Organic Sumatra Takengon Mandheling is back Friday, March 15
Beware the Ides but NOT this wonderfully richcdertified Organic and Fair Trade Sumatra from KKGO (Koperasi Kopi Gayo Organic Cooperative), which we're delighted to have back after a couple of years, and better than ever. Walnut brownie in a cup for pourover or espresso of French ...more
New coffee offering...Special du Jour Boutique, for rarities!
We often take in tiny lots for assay here in the "lab", and like mad scientists put them through the paces for unusual notes they might yield. Calling it "Boutique" not for pretense but because we might have as few as a few pounds of it or as many as 50...and they will run out quickly. As a test ...more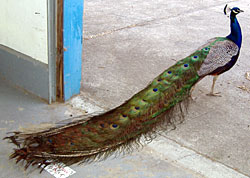 Just one of our many discriminating customers that frequent the roastery
Love us or hate us, everyone's entitled to their opinion.
Drop us a line
and let us know what's brewing in your cup!