| | |
| --- | --- |
| | |
| | |
Barista extraordinaire Tyler Hauptman of Portland's Sweet Masterpiece Chocolates demonstrates how to prepare a proper latte using Badbeard's
Symphony!
blend coffee.
CAFE IS FINALLY HAPPENING!
The wait for the cafe is finally over...Abundancia Cafe, home of Badbeard's roasting facility, has soft-opened, here at 5829 SE Powell Blvd. Portland 97206. My coffee partner Faisal, whose exceptional family Kenya coffees we have carried for a couple years now, is as hopped up as I ...more
Comings, goings, doings...
Couple of notes on existing stocks...temporarily discontinuing the Filtropa #4 filters for awhile as we await a shipment from Holland...might be a couple of months! Our award-winning Colombia Narino Galeras will be back in stock middle of next week...flew off the shelves! This ...more
Colombia Pink Bourbon is back 1/22/18
Loved this coffee the last two years and jumped on a few bags when they arrived in Portland last week...admittedly heavy on Colombians these days but heck, they're fresh and tasty and unusual....about as far from the "Juan Valdez" coffee profile as I can imagine. A country with such incredible ...more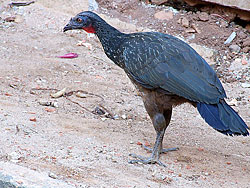 If your coffee tastes like s--t, don't blame the Jacu bird! This infamous Amazon bean-machine beak-selects each coffee berry at the peak of ripeness and leaves just the beans, somewhat clean and green, behind...so to speak.
Love us or hate us, everyone's entitled to their opinion.
Drop us a line
and let us know what's brewing in your cup!