Bali | Brazil | Burundi | Colombia | El Salvador | Ethiopia | Guatemala | Honduras | Indonesia | Java | Kenya | Mexico | Nicaragua | Rwanda | Sulawesi | Sumatra | Uganda |
---
NOTE: All of our premium Arabica coffees are roasted to City+ to Full City roasts, showing minimal-to-no surface oils….we want all of the flavor to stay in the beans until the coffee is ground! Despite the additional descriptors, the first flavor and aroma you'll think of is "COFFEE".
Barista extraordinaire Tyler Hauptman of Portland's Sweet Masterpiece Chocolates demonstrates how to prepare a proper latte using Badbeard's
Symphony!
blend coffee.
Badbeard's Coffee Milk Stout on tap locally!
Market of Choice in Beaverton has a neat tap bar with beer and wine pours and growler-filling. Our Coffee Milk Stout, produced with Unicorn Brewing's Jason Webb and formulator John Lovegrove, is in the beer rotation as of this week. Filled some growlers yesterday, go get some! ABV 6.7, 19 IBU. ...more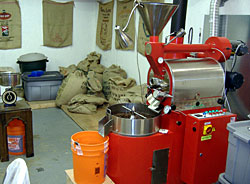 Rossalina is our small-batch roaster capable of roasting samples down to a half-pound with exquisite control. The hallmark of great coffee is consistent roast temperatures and even air flow, and Rossalina delivers on both counts.
Love us or hate us, everyone's entitled to their opinion.
Drop us a line
and let us know what's brewing in your cup!