Bali | Brazil | Burundi | Colombia | Costa Rica | El Salvador | Ethiopia | Flores | Guatemala | Honduras | Java | Kenya | Mexico | Nicaragua | Papua New Guinea | Rwanda | Sulawesi | Sumatra | Tanzania | Timor | Uganda | Yemen |
---
NOTE: All of our premium Arabica coffees are roasted to City+ to Full City roasts, showing minimal-to-no surface oils….we want all of the flavor to stay in the beans until the coffee is ground! Despite the additional descriptors, the first flavor and aroma you'll think of is "COFFEE".
Country of Origin: Yemen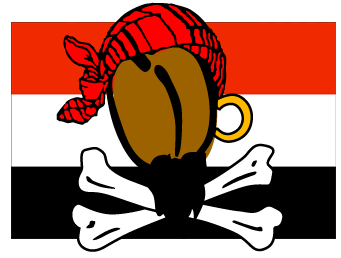 $20.95
(1 lb. / $20.95 per lb.)
Barista extraordinaire Tyler Hauptman of Portland's Sweet Masterpiece Chocolates demonstrates how to prepare a proper latte using Badbeard's
Symphony!
blend coffee.
New decafs in...no jitters!
Adding coffees in peak season for many origins is half the fun of my day. Today bringing two new lovely decafs....Rwanda Nyamesheke Swiss Water Process and Colombia natural decaf (sugarcane "extraction" of the caffeine) from the Cudinamarca region. ...more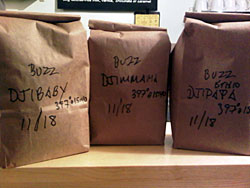 How to catch a Badbeard buzz at Buzz Killer Espresso in Chicago.
Love us or hate us, everyone's entitled to their opinion.
Drop us a line
and let us know what's brewing in your cup!