| | |
| --- | --- |
| | |
| | |
Barista extraordinaire Tyler Hauptman of Portland's Sweet Masterpiece Chocolates demonstrates how to prepare a proper latte using Badbeard's
Symphony!
blend coffee.
New arrivals
Bubbly excitement awaiting two new Boutique Special du Jour offerings...Kenya organic (the only certified OG in Kenya) Muiri Estate AA double-washed, super-gorgeous and Honduras Catracha Project Mayra Orellana-Powell's washed Bourbon varietal. Mayra was the creator of the tranformative Catracha ...more
More Ethiopia goodness
We've been big fans of ALL of the Ethiopian coffee regions since day one, and Yirgacheffe is many-splendored, especially in Natural (whole dried coffee cherry using raised beds) process. Just in and must-try is Yirgacheffe Koke washing station, from a very high and sinuously-sloped area which ...more
New arrivals have poured in!
So much great coffee in-house! March-July is generally a lull in coffee availability as producers get their stuff into containers and onward to the US and Europe. Tomorrow all of Colombia will be exulting over its first Tour de France winner, 22 year-old Egan Bernal, and today we at Badbeard's ...more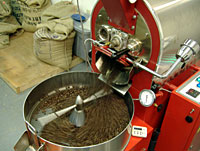 A fresh batch of Longberry Harar enters the cool-down process...time to check for Waldos!
Love us or hate us, everyone's entitled to their opinion.
Drop us a line
and let us know what's brewing in your cup!