Bali | Brazil | Burundi | Colombia | Costa Rica | El Salvador | Ethiopia | Flores | Guatemala | Honduras | Java | Kenya | Mexico | Nicaragua | Papua New Guinea | Rwanda | Sulawesi | Sumatra | Tanzania | Timor | Uganda | Yemen |
---
NOTE: All of our premium Arabica coffees are roasted to City+ to Full City roasts, showing minimal-to-no surface oils….we want all of the flavor to stay in the beans until the coffee is ground! Despite the additional descriptors, the first flavor and aroma you'll think of is "COFFEE".
Late August bounty of special arrivals
Pandemic or no, Colombia continues to provide us with some of the world's most interesting coffees. Recent additions of stunning Wush Wush (of Ethiopian ancesstry) natural process from Finca La Suiza (Caldas Department) and new crop Pink Bourbon from Finca El Danubio (Huila Department) top the ...more
New August arrivals...yumbo Guatemala and Uganda natural process
In what has seemed like an endless slog with all things pandemic, we're still cranking coffee and finding gems despite the relative slowdowns in new arrivals from origin. This week added delish Guatemala Organic Finca Bourbon, from an estate producing fine coffee for a century, and fittingly ...more
New arrivals streaming in...
As the PLAGUE wears us all down at times, roasting is a salve for my spirit, and new crop arrivals are fun to share. Ethiopia, our favorite of all origins, is still behind the production and shipping curves by a couple months in general. We just got one of our faves of recent years, a washed ...more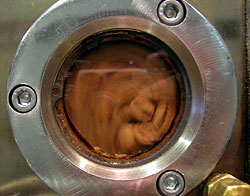 Anticipation! In about 73 seconds another batch of Badbeard's best will tumble from the roaster.
Love us or hate us, everyone's entitled to their opinion.
Drop us a line
and let us know what's brewing in your cup!