Bali | Brazil | Burundi | Colombia | Costa Rica | East Timor/Timor Leste | El Salvador | Ethiopia | Flores | Guatemala | Honduras | Java | Kenya | Mexico | Papua New Guinea | Peru | Rwanda | Sulawesi | Sumatra | Uganda |
---
NOTE: All of our premium Arabica coffees are roasted to City+ to Full City roasts, showing minimal-to-no surface oils….we want all of the flavor to stay in the beans until the coffee is ground! Despite the additional descriptors, the first flavor and aroma you'll think of is "COFFEE".
Barista extraordinaire Tyler Hauptman of Portland's Sweet Masterpiece Chocolates demonstrates how to prepare a proper latte using Badbeard's
Symphony!
blend coffee.
Holiday Special Ethiopia limited edition
Black Friday? Not here, sorry, but the elves at Badbeard's put together a limited availability "tasting pair" of 2 special organic Ethiopia Sidama region coffees in both natural and washed process from Shantawene Village. Two 12-oz. bags (1.5 lbs. net) of spectacular stuff for the price of one. ...more
More ins and outs...Decaf
Welcome in nice, bold, complex Flores Laga Lizu (Swiss Water Process)...nice for drip and espresso...and ciao to Ethiopia Western States SWP.
Ins and outs, Ethiopia edition
Yirgacheffe Kochere is officially out of stock after a torrid run...but fear not, crushing it with a new Yirg from Dumerso, a stone's throw from Chelelektu (our natural process offering). Also shortly we'll have in a wonderful Papua New Guinea, check back ...more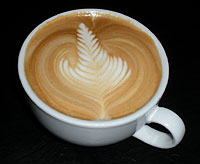 Barista Tyler Hauptman of Sweet Masterpiece (Portland, OR) shows off his chops on Badbeard's Symphony blend coffee.
Love us or hate us, everyone's entitled to their opinion.
Drop us a line
and let us know what's brewing in your cup!