Bali | Brazil | Colombia | Costa Rica | El Salvador | Ethiopia | Flores | Guatemala | Honduras | Indonesia | Java | Kenya | Mexico | Papua New Guinea | Peru | Rwanda | Sulawesi | Sumatra | Uganda | Yemen |
---
NOTE: All of our premium Arabica coffees are roasted to City+ to Full City roasts, showing minimal-to-no surface oils….we want all of the flavor to stay in the beans until the coffee is ground! Despite the additional descriptors, the first flavor and aroma you'll think of is "COFFEE".
Country of Origin: Papua New Guinea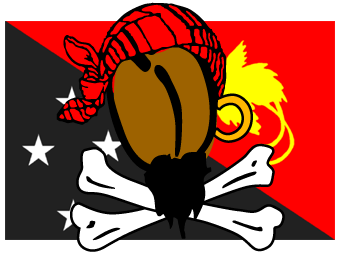 $14.50

(1 lb. / $14.50 per lb.)




$15.95

(1 lb. / $15.95 per lb.)
Barista extraordinaire Tyler Hauptman of Portland's Sweet Masterpiece Chocolates demonstrates how to prepare a proper latte using Badbeard's
Symphony!
blend coffee.
New coffees trickling in...
It is a tough time of the year to procure certain origins but dagnabbit, going for it. New stocks of Uganda Mt. Elgon Manawfa, very limited first-come first-roasted Kenya Ruthugati AA, Costa Rica Jaguar honey process, Guatemala La Morena (women-produced). By the end of the week 7/16 also will be ...more
Summer break July 2-10
Starting to actually feel like it around Portland. Badbeard's online orders will be fulfilled until 3 pm on Saturday, June 30 cutoff. Orders placed after this will resume roasting and shipping on July 11.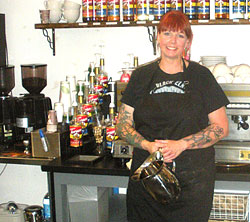 She's a [painted]lady! Jill Younce, owner of Painted Lady Coffeehouse in Milwaukie, OR, lives up to the name, as well as serving the best espresso in town!
Love us or hate us, everyone's entitled to their opinion.
Drop us a line
and let us know what's brewing in your cup!