Brazil | Burundi | Colombia | El Salvador | Ethiopia | Flores | Guatemala | Honduras | Indonesia | Java | Kenya | Nicaragua | Rwanda | Sulawesi | Sumatra |

---

NOTE: All of our premium Arabica coffees are roasted to City+ to Full City roasts, showing minimal-to-no surface oils….we want all of the flavor to stay in the beans until the coffee is ground! Despite the additional descriptors, the first flavor and aroma you'll think of is "COFFEE".




Country of Origin: Panama

No Products Found
To search for an item, enter one or more search words into the search box and click the "search" button.



Barista extraordinaire Tyler Hauptman of Portland's Sweet Masterpiece Chocolates demonstrates how to prepare a proper latte using Badbeard's
Symphony!
blend coffee.
End of Summer mini-hiatus 8/27 to 8/30
Off in search of coffees etc Badbeard's will roasting and shipping thru tomorrow, Wednesday 8/26. We will resume the roasting schedule on 8/31 and ship the following day. The roastery is chock-a-block with great coffee!
End of August equals...Lots of new arrivals....
Never a dull moment around here cupping and bringing in exciting new coffees! Just arrived yesterday beautiful Colombia Organic Planadas Reserva and Natural Decaf. The latter is a Colombia-based take on Water Process decaffeination utilizing sugar cane-based ethyl acetate "solvent" for removing ...more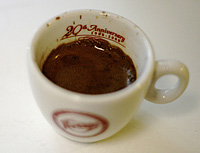 triple ristretto shot of Deep Cello Espresso blend
Love us or hate us, everyone's entitled to their opinion.
Drop us a line
and let us know what's brewing in your cup!