| | |
| --- | --- |
| | |
| | |
Barista extraordinaire Tyler Hauptman of Portland's Sweet Masterpiece Chocolates demonstrates how to prepare a proper latte using Badbeard's
Symphony!
blend coffee.
Arrivals: Ethiopia washed Yukro fabuloso, Peru SWP Decaf
This Yukro is the bomb! A relatively new co-op, Kata Muduga, in the Jimma Zone of Oromia in SW Ethiopia, central of all great things coffee. On the cupping table, any washed coffee that can fool me and others into thinking it's a natural process is AUTOMATICALLY booked. Special stuff for drip or ...more
Colombia Yellow Bourbon and Natural Decaf arrived 11/27
Always-excellent microlots arrive from partners Traviesa Coffee in Manizales around this time of the year, from recent (Sept. thru Nov.) 2017 harvests with great anticipation. The 100% Yellow Bourbon from Finca La Esmeralda in Pitalito is bright, juicy sweet, citrusy and we love it. The ...more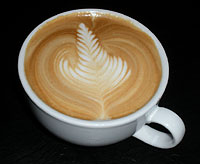 Barista Tyler Hauptman of Sweet Masterpiece (Portland, OR) shows off his chops on Badbeard's Symphony blend coffee.
Love us or hate us, everyone's entitled to their opinion.
Drop us a line
and let us know what's brewing in your cup!