Brazil | Burundi | Colombia | El Salvador | Ethiopia | Flores | Guatemala | Honduras | Indonesia | Java | Kenya | Nicaragua | Rwanda | Sulawesi | Sumatra |

---

NOTE: All of our premium Arabica coffees are roasted to City+ to Full City roasts, showing minimal-to-no surface oils….we want all of the flavor to stay in the beans until the coffee is ground! Despite the additional descriptors, the first flavor and aroma you'll think of is "COFFEE".




Country of Origin: Indonesia

No Products Found
To search for an item, enter one or more search words into the search box and click the "search" button.



Barista extraordinaire Tyler Hauptman of Portland's Sweet Masterpiece Chocolates demonstrates how to prepare a proper latte using Badbeard's
Symphony!
blend coffee.
December arrivals for holiday madness you can drink
Primo coffees abounding this week at the roastery as we welcome two new exceptional offerings from one of Colombia's premier estates, Finca Manantiales del Frontino, in Caicedonia, Valle de Cauca. The Geisha is super-special, and to my palate will make you think that Panamanian Geishas are ...more
More greatness from Ethiopia
Native son Samuel Demisse of Keffa Coffee Importers continues to bring us the best coffees from Ethiopia year after year. The new YirgZ, a washed Yirgacheffe (the "z" stands for zero-defect-sorting, which takes 3 times longer than conventional hand sorting and pays a premium to the women who ...more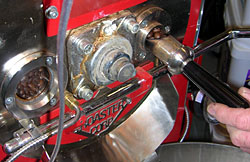 Five more seconds until roasting perfection!
Love us or hate us, everyone's entitled to their opinion.
Drop us a line
and let us know what's brewing in your cup!