| | |
| --- | --- |
| | |
| | |
Barista extraordinaire Tyler Hauptman of Portland's Sweet Masterpiece Chocolates demonstrates how to prepare a proper latte using Badbeard's
Symphony!
blend coffee.
Kenya AA "Super Duper" at Market of Choice Oct. 31
Halloween the perfect day to introduce this scary-great Kenyan coffee to all of the Markets of Choice in Oregon. Check the ad in the Savories flyer or just go see your coffee section! We were sad to see importer Robinson Mutiso leave Portland back for his homebase in Chicago but can't wait for ...more
New arrivals 9/23/14 from East Africa...stunning!
Excited to be able to share some really great stuff from Ethiopia (Ch'ire Sidama and Yirgacheffe Gutiti) and, exclusive to the West Coast, Kenya AA Kianjuri Co-Op. In the humdrum of your morning you really need to try something that represents the finest coffee farming around. And many thanks to ...more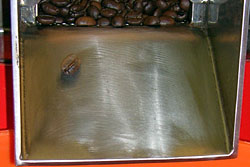 We are such perfectionists we roast one bean at a time for the ultimate coffee experience! (OK, not really)
Love us or hate us, everyone's entitled to their opinion.
Drop us a line
and let us know what's brewing in your cup!