| | |
| --- | --- |
| | |
| | |
Barista extraordinaire Tyler Hauptman of Portland's Sweet Masterpiece Chocolates demonstrates how to prepare a proper latte using Badbeard's
Symphony!
blend coffee.
New Colombia Huila available 11/19/14
Excited to have this excellent coffee and partnering with Sustainable Harvest to bring it to my customers! Coocentral is a large and exceptional growers co-op making a real difference in Colombia.
Quick note on CLEVER COFFEE DRIPPER and Filtropa #4 filters coming!
The popular Clever dripper will be out of stock until the end of this week of November 17. We are bringing in the Holland-made Filtropa #4 paper filters for the Clever or your favorite cone dripper. These babies are in our opinion superior to the standard #4 Melitta or Melitta-clone ...more
Soon to come, 11/5/14...Guatemala and Sumatra
We will be receiving two lovely coffees this Friday and ready to ship...Rainforest Alliance-certified Guatemala Antigua Finca Medina and Sumatra Wahana Estate semi-washed process. Excited about both!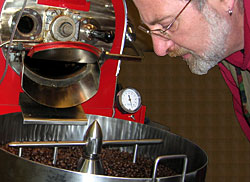 Badbeard checks for Waldos.
Love us or hate us, everyone's entitled to their opinion.
Drop us a line
and let us know what's brewing in your cup!