Bali | Brazil | Burundi | Colombia | El Salvador | Ethiopia | Flores | Guatemala | Honduras | Indonesia | Java | Kenya | Mexico | Rwanda | Sulawesi | Sumatra | Uganda | Yemen |
---
NOTE: All of our premium Arabica coffees are roasted to City+ to Full City roasts, showing minimal-to-no surface oils….we want all of the flavor to stay in the beans until the coffee is ground! Despite the additional descriptors, the first flavor and aroma you'll think of is "COFFEE".
Country of Origin: Honduras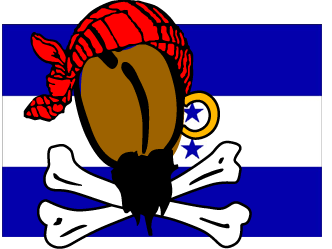 $15.55

(1 lb. / $15.55 per lb.)




$13.95

(1 lb. / $13.95 per lb.)
Barista extraordinaire Tyler Hauptman of Portland's Sweet Masterpiece Chocolates demonstrates how to prepare a proper latte using Badbeard's
Symphony!
blend coffee.
Exceptional Mexico Alfred Klein Finca San Carlos arrival..
Mexico, so near and dear to my heart after a near-decade living there in the '90s, produces a lot of good coffee, most of it exported. Occasionally it's exceptional, like the newly-arrived (7-7-17) washed Finca San Carlos. My buds and savants at importer Royal Coffee have been after me for years ...more
Move updates and upcoming ROASTING SCHEDULE
Many twists and turns in my effort to get up and running at the new facility....my apologies for any delays. The haunting specter of a big earthquake in the Pacific Northwest has infected the engineering mavens of the Portland building departments, and new requirements for freestanding ...more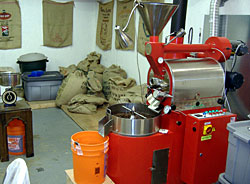 Rossalina is our small-batch roaster capable of roasting samples down to a half-pound with exquisite control. The hallmark of great coffee is consistent roast temperatures and even air flow, and Rossalina delivers on both counts.
Love us or hate us, everyone's entitled to their opinion.
Drop us a line
and let us know what's brewing in your cup!