| | |
| --- | --- |
| | |
| | |
Barista extraordinaire Tyler Hauptman of Portland's Sweet Masterpiece Chocolates demonstrates how to prepare a proper latte using Badbeard's
Symphony!
blend coffee.
Kenya Kenya Kenya Nicaragua natural
Two gone (Grand Reserve and Blue Mountain) and one new one in, Konyu AA. I'm a fan of the Konyu and only got a miniscule amount of it, too little to list as an inventory item since it usually flies out. However, you dedicated fans, while I have it please order Special du Jour Deluxe and specify ...more
Guatemala comings and goings
Said good-bye tearily to the last beans from La Morena, an exceptional women-produced coffee, as we welcomed in the exceptional Finca La Maravilla microlot from highland Huehuetenango. La Morena will be back soon!
CAFE IS FINALLY HAPPENING!
The wait for the cafe is finally over...Abundancia Coffee Boutique, home of Badbeard's roasting facility, has soft-opened, here at 5829 SE Powell Blvd. Portland 97206. My coffee partner Faisal, whose exceptional family Kenya coffees we have carried for a couple years now, is as hopped up as I ...more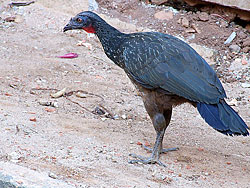 If your coffee tastes like s--t, don't blame the Jacu bird! This infamous Amazon bean-machine beak-selects each coffee berry at the peak of ripeness and leaves just the beans, somewhat clean and green, behind...so to speak.
Love us or hate us, everyone's entitled to their opinion.
Drop us a line
and let us know what's brewing in your cup!