| | |
| --- | --- |
| | |
| | |
Barista extraordinaire Tyler Hauptman of Portland's Sweet Masterpiece Chocolates demonstrates how to prepare a proper latte using Badbeard's
Symphony!
blend coffee.
Limited offering Kenya three-pack
A special micropurchase allows us to offer the ULTIMATE Kenya taster, comprising three 8 oz. bags of microlot Gatuya AA, AB and Peaberry. Gatuya Coffee Factory in Murang'a is at the very top of the milling and producing chain in Kenya...hats off to the farmers. Limit 2 per customer. Fantastic ...more
Far East redux...arrivals next week..
Too sad....after reading an industry supply article a few weeks ago I went in search of some nice Sulawesi coffees, absent here for far too long, and found raves. Then suddenly, on Sept. 28, came the devastating earthquake and resultant tsunami which resulted in major loss of life and a ...more
Ethiopia redux
Happy to tout the cup virtues of our new Ethiopia Limu Daye Bensa, just added. There are several other exciting Ethiopas, washed and natural process, in the pipeline as well...high season for new crop arrivals of containers which have been afloat for many weeks. Patience will be ...more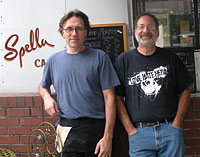 Barista extraordinaire Andrea Spella poses with Badbeard outside the Spella Cafe in downtown Portland.
Love us or hate us, everyone's entitled to their opinion.
Drop us a line
and let us know what's brewing in your cup!