Bali | Brazil | Burundi | Colombia | Costa Rica | El Salvador | Ethiopia | Flores | Guatemala | Honduras | Indonesia | Java | Kenya | Mexico | Papua New Guinea | Peru | Rwanda | Sulawesi | Sumatra | Uganda | Yemen |
---
NOTE: All of our premium Arabica coffees are roasted to City+ to Full City roasts, showing minimal-to-no surface oils….we want all of the flavor to stay in the beans until the coffee is ground! Despite the additional descriptors, the first flavor and aroma you'll think of is "COFFEE".
Barista extraordinaire Tyler Hauptman of Portland's Sweet Masterpiece Chocolates demonstrates how to prepare a proper latte using Badbeard's
Symphony!
blend coffee.
2019 NW Coffee Beer Invitational Sat., Jan.26...super chill hang!
Stoked to be participating in this annual event highlighting NW beer and coffee producers! Rocking with superb Pono Brewing's Larry Clouser and my favorite sudsmacher John Lovegrove, who got me on this synergistic journey 4 years ago at the Baker's Dozen Coffee beers/beer/donuts/coffee event in ...more
New Ethiopia coffees are in...
...from METAD Agricultural Development PLC. METAD is a third-generation family owned business with a rich history that began after World War II when the Ethiopian Emperor awarded Muluemebet Emiru, the first African female pilot and family matriarch, with land in the Guji and Sidama zones that ...more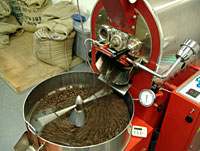 A fresh batch of Longberry Harar enters the cool-down process...time to check for Waldos!
Love us or hate us, everyone's entitled to their opinion.
Drop us a line
and let us know what's brewing in your cup!