Brazil | Burundi | Colombia | El Salvador | Ethiopia | Flores | Guatemala | Honduras | Indonesia | Java | Kenya | Nicaragua | Papua New Guinea | Rwanda | Sulawesi | Sumatra | Tanzania |
---
NOTE: All of our premium Arabica coffees are roasted to City+ to Full City roasts, showing minimal-to-no surface oils….we want all of the flavor to stay in the beans until the coffee is ground! Despite the additional descriptors, the first flavor and aroma you'll think of is "COFFEE".
Barista extraordinaire Tyler Hauptman of Portland's Sweet Masterpiece Chocolates demonstrates how to prepare a proper latte using Badbeard's
Symphony!
blend coffee.
New Colombia Huila available 11/19/14
Excited to have this excellent coffee and partnering with Sustainable Harvest to bring it to my customers! Coocentral is a large and exceptional growers co-op making a real difference in Colombia.
Quick note on CLEVER COFFEE DRIPPER and Filtropa #4 filters coming!
The popular Clever dripper will be out of stock until the end of this week of November 17. We are bringing in the Holland-made Filtropa #4 paper filters for the Clever or your favorite cone dripper. These babies are in our opinion superior to the standard #4 Melitta or Melitta-clone ...more
Soon to come, 11/5/14...Guatemala and Sumatra
We will be receiving two lovely coffees this Friday and ready to ship...Rainforest Alliance-certified Guatemala Antigua Finca Medina and Sumatra Wahana Estate semi-washed process. Excited about both!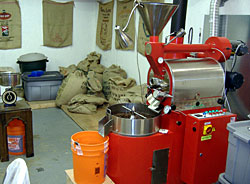 Rossalina is our small-batch roaster capable of roasting samples down to a half-pound with exquisite control. The hallmark of great coffee is consistent roast temperatures and even air flow, and Rossalina delivers on both counts.
Love us or hate us, everyone's entitled to their opinion.
Drop us a line
and let us know what's brewing in your cup!