Bali | Brazil | Colombia | Costa Rica | El Salvador | Ethiopia | Guatemala | Honduras | Indonesia | Java | Kenya | Mexico | Rwanda | Sulawesi | Sumatra | Uganda |
---
NOTE: All of our premium Arabica coffees are roasted to City+ to Full City roasts, showing minimal-to-no surface oils….we want all of the flavor to stay in the beans until the coffee is ground! Despite the additional descriptors, the first flavor and aroma you'll think of is "COFFEE".
Barista extraordinaire Tyler Hauptman of Portland's Sweet Masterpiece Chocolates demonstrates how to prepare a proper latte using Badbeard's
Symphony!
blend coffee.
Colombia Yellow Bourbon and Natural Decaf arrived 11/27
Always-excellent microlots arrive from partners Traviesa Coffee in Manizales around this time of the year, from recent (Sept. thru Nov.) 2017 harvests with great anticipation. The 100% Yellow Bourbon from Finca La Esmeralda in Pitalito is bright, juicy sweet, citrusy and we love it. The ...more
Accolades for Badbeard!
Fab News! Badbeard's notched the PEOPLE'S CHOICE award at the 2017 Cascadia Roasters Cup event this past Saturday (held at Buckman Coffee Factory) in Portland, which was open to all. Importer Genuine Origins gave 20 pounds of the same "mystery coffee" participants ...more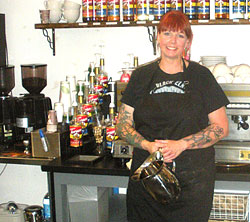 She's a [painted]lady! Jill Younce, owner of Painted Lady Coffeehouse in Milwaukie, OR, lives up to the name, as well as serving the best espresso in town!
Love us or hate us, everyone's entitled to their opinion.
Drop us a line
and let us know what's brewing in your cup!