Brazil | Burundi | Colombia | El Salvador | Ethiopia | Flores | Guatemala | Honduras | Indonesia | Java | Kenya | Nicaragua | Rwanda | Sulawesi | Sumatra |
---
NOTE: All of our premium Arabica coffees are roasted to City+ to Full City roasts, showing minimal-to-no surface oils….we want all of the flavor to stay in the beans until the coffee is ground! Despite the additional descriptors, the first flavor and aroma you'll think of is "COFFEE".
My Basket:

Item Name

Qty.

Error: Please View Basket

Total (0 Item): $0.00


check out
Scleroderma Foundation---Oregon Chapter and Big Brothers Big Sisters, Columbia Northwest Chapter
Barista extraordinaire Tyler Hauptman of Portland's Sweet Masterpiece Chocolates demonstrates how to prepare a proper latte using Badbeard's
Symphony!
blend coffee.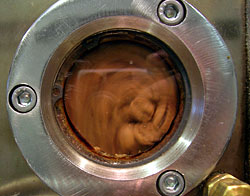 Anticipation! In about 73 seconds another batch of Badbeard's best will tumble from the roaster.
Love us or hate us, everyone's entitled to their opinion.
Drop us a line
and let us know what's brewing in your cup!