Brazil | Burundi | Colombia | Costa Rica | El Salvador | Ethiopia | Flores | Honduras | Indonesia | Java | Kenya | Nicaragua | Papua New Guinea | Peru | Rwanda | Sulawesi | Sumatra | Tanzania |
---
NOTE: All of our premium Arabica coffees are roasted to City+ to Full City roasts, showing minimal-to-no surface oils….we want all of the flavor to stay in the beans until the coffee is ground! Despite the additional descriptors, the first flavor and aroma you'll think of is "COFFEE".
Barista extraordinaire Tyler Hauptman of Portland's Sweet Masterpiece Chocolates demonstrates how to prepare a proper latte using Badbeard's
Symphony!
blend coffee.
New from Colombia
South America's Fall-Winter harvest cycle still offering the freshest coffees on the planet..new Colombia Narino Excelso now in and rocking it.
Mid-January '14 arrivals continuing
Expecting a motherload tomorrow (Wednesday, Jan 15) of stuff including new offerings from Sulawesi (Toraja Grade 1)...sweet, spicy and fragrant and an outstanding Sidama Shilcho washed process, fruity love very akin to some of my recent Yirgacheffes. More Colombia Narino Peaberry to shore up the ...more
Colombia on special at Markets of Choice
The Colombia Narino Peaberry in the multi-roast profile is on sale at all 8 Markets of Choice in Oregon thru January 24th. It's a really nice single origin espresso at a 27 second pull at 200 degrees. I've been gluttonously drinking it every morning in my Bona Vita dripper for a week now, love ...more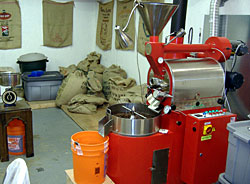 Rossalina is our small-batch roaster capable of roasting samples down to a half-pound with exquisite control. The hallmark of great coffee is consistent roast temperatures and even air flow, and Rossalina delivers on both counts.
Love us or hate us, everyone's entitled to their opinion.
Drop us a line
and let us know what's brewing in your cup!