Bali | Brazil | Colombia | Costa Rica | El Salvador | Ethiopia | Flores | Guatemala | Honduras | Indonesia | Java | Kenya | Mexico | Papua New Guinea | Peru | Rwanda | Sulawesi | Sumatra | Tanzania | Uganda | Yemen |
---
NOTE: All of our premium Arabica coffees are roasted to City+ to Full City roasts, showing minimal-to-no surface oils….we want all of the flavor to stay in the beans until the coffee is ground! Despite the additional descriptors, the first flavor and aroma you'll think of is "COFFEE".
Barista extraordinaire Tyler Hauptman of Portland's Sweet Masterpiece Chocolates demonstrates how to prepare a proper latte using Badbeard's
Symphony!
blend coffee.
Lovely Tanzania AB new crop and Guatemala San Vicente Pacaya 2018
We loved last year's Tanzania AB and just brought it back for a short trial. A tasty breakfast coffee, nice stone fruity and chocolatey notes. Guatemala continues to return strongly to the forefront in Central American offerings...can't get enough! Adding this San Vicente (a distinct growing ...more
Special microlot Costa Rica Anaerobically-produced excellence
Very psyched to have come across this unique coffee and found it to be MORE than everything it was cranked up to be. Producer Luis Campos has taken the super-solid caturra varietal to new heights by anaerobically producing it once it reaches a specific (26 Brix) ripeness on the shrub. Just ...more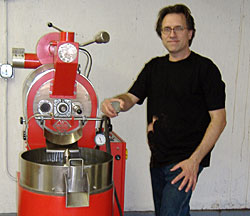 Business partner/roaster/barista extraordinaire Andrea Spella has the best espresso in Portland. When we acquired "Rossalina" we knew we were in for an extraordinary ride together.
Love us or hate us, everyone's entitled to their opinion.
Drop us a line
and let us know what's brewing in your cup!