Bali | Brazil | Burundi | Colombia | El Salvador | Ethiopia | Flores | Guatemala | Honduras | Indonesia | Java | Kenya | Mexico | Rwanda | Sulawesi | Sumatra | Uganda | Yemen |
---
NOTE: All of our premium Arabica coffees are roasted to City+ to Full City roasts, showing minimal-to-no surface oils….we want all of the flavor to stay in the beans until the coffee is ground! Despite the additional descriptors, the first flavor and aroma you'll think of is "COFFEE".
Barista extraordinaire Tyler Hauptman of Portland's Sweet Masterpiece Chocolates demonstrates how to prepare a proper latte using Badbeard's
Symphony!
blend coffee.
Move updates and upcoming ROASTING SCHEDULE
Many twists and turns in my effort to get up and running at the new facility....my apologies for any delays. The haunting specter of a big earthquake in the Pacific Northwest has infected the engineering mavens of the Portland building departments, and new requirements for freestanding ...more
Almost there....but must shut down online ordering for a few days!
This has been an arduous transition for me trying to get the new space initiated. I hardly expected it to be trouble-free...but several unforeseeable circumstances beyond my control have forced my hand. The roaster ("Heisenbeard") is going to be moved tomorrow while new gas and HVAC work is ...more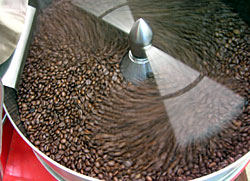 Take our beans for a spin...you won't be disappointed.
Love us or hate us, everyone's entitled to their opinion.
Drop us a line
and let us know what's brewing in your cup!