Bolivia | Brazil | Burundi | Colombia | El Salvador | Ethiopia | Flores | Guatemala | Honduras | India | Indonesia | Java | Kenya | Nicaragua | Panama | Rwanda | Sumatra | Tanzania |
---
NOTE: All of our premium Arabica coffees are roasted to City+ to Full City roasts, showing minimal-to-no surface oils….we want all of the flavor to stay in the beans until the coffee is ground! Despite the additional descriptors, the first flavor and aroma you'll think of is "COFFEE".
Barista extraordinaire Tyler Hauptman of Portland's Sweet Masterpiece Chocolates demonstrates how to prepare a proper latte using Badbeard's
Symphony!
blend coffee.
Unique S.O. Brazil espresso in house today!
Welcome mat rolled out today for the biodynamically-produced, organic certified Fazenda Floresta from Bahia State in Northeastern Brazil. Doesn't get much better for single origin espresso cravers. And the juicy Ethiopia Yirgacheffe Blue Nile back in stock, fresh crop just off the boat, ...more
Yirgacheffe Blue Nile backorder, Sumatra Honey Mandheling
Will be replenishing the outstanding Yirgacheffe Blue Nile in a couple of weeks with the new crop offering...sold out. Also hope to introduce the complex "honey process" Sumatra Mandheling, a pirated brief description from Royal Coffees info portal..."This coffee is processed in a unique style, ...more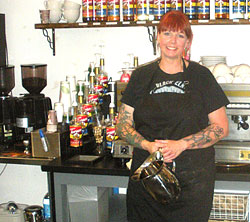 She's a [painted]lady! Jill Younce, owner of Painted Lady Coffeehouse in Milwaukie, OR, lives up to the name, as well as serving the best espresso in town!
Love us or hate us, everyone's entitled to their opinion.
Drop us a line
and let us know what's brewing in your cup!