Brazil | Burundi | Colombia | El Salvador | Ethiopia | Flores | Guatemala | Honduras | Indonesia | Java | Kenya | Nicaragua | Rwanda | Sulawesi | Sumatra |
---
NOTE: All of our premium Arabica coffees are roasted to City+ to Full City roasts, showing minimal-to-no surface oils….we want all of the flavor to stay in the beans until the coffee is ground! Despite the additional descriptors, the first flavor and aroma you'll think of is "COFFEE".
Barista extraordinaire Tyler Hauptman of Portland's Sweet Masterpiece Chocolates demonstrates how to prepare a proper latte using Badbeard's
Symphony!
blend coffee.
More new arrivals, 4-23-15
Continuing our presentation of some of the finest Colombian coffees...check out new EXTREMELY LIMITED Granja La Esperanza Yellow Bourbon natural process and Red Boubon honey process...simply amazing! Colombia Agustino Forest, one of our fave washed coffees, also is back in stock. New washed ...more
More freshies, Colombia Pacamara and Brazil "Sugar"
Champing at the bit awaiting the new Colombia Cafe Granja La Esperanza Pacamara Honey process...a superb exotic. From my new fave rock-star producer in all of South America...devilishly rich coffee. Also new/Late Harvest Brazil OurCoffees "Sugar", an extraordinary cup for the $$$, reflective of ...more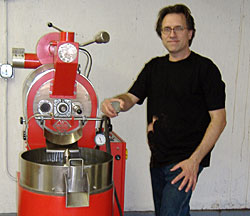 Business partner/roaster/barista extraordinaire Andrea Spella has the best espresso in Portland. When we acquired "Rossalina" we knew we were in for an extraordinary ride together.
Love us or hate us, everyone's entitled to their opinion.
Drop us a line
and let us know what's brewing in your cup!